Earthquakes pose a big threat to cultural and heritage buildings. Normally, historic buildings are more vulnerable to seismic actions than ordinary ones. So, also the artifacts that such buildings normally protect are subject to damages, due to the debris and, sometimes, to fires ignited by earthquakes.
When the  April 6th 2009 earthquake hit the city of  L'Aquila (Italy), there is at least one recorded case of fire ignited by the earthquake in a historical building (a church in the center of Aquila old town). The most of the damages to cultural heritage in such earthquake are due to the collapse of the buildings and, for a lesser extent, to the mud that rains have brought the days following the earthquake.
One of the most important activities carried out during the first months after the earthquake has been a wide operation of provisional works  outside and inside the buildings. Such works have been made in order to avoid further collapses. Thus, the special firefighter's teams have been protecting walls, roofs and floors of the buildings against the damages posed by the rain.
The Italian National Fire Corps (Corpo nazionale dei Vigili del Fuoco) has published a guideline concerning the techniques of making the provisional works (STOP – Shoring Templates and Operating Procedures for the support of buildings damaged by earthquakes). The publication is divided into 8 sections:
timber raker shores
timber wall to wall shores (horizontal and sloped)
shores for apertures
shores for slabs and balconies
support of vault and arches
steel wire rope tie backs
bracing of columns with polyester with ratchet straps
interloped packing of walls
Each section is opened by an extremely simplified description of the movement to be constrained. For example, the interloped packing of wall section is described by the following figure:
Each kind of movement can be found in different scenarios. For example, the timber raker shores may applied to six main different situations:
The shoring to be put in place will be designed accordingly. The following figure is drawn by the same section:

Having identified the main scheme of the shoring, technologies and details must be considered. The following example is part of the fifth section (support of vault and arches):
In the following phase of the procedure suggested by the STOP vademecum, the identification of the single elements of the structure to be built are detailed. The following figure explains dimensions of the components of a main solid raker according to the seismic risk of the area:
Operating procedures are considered in the STOP cards. The following figure is part of the interloped packing of walls section: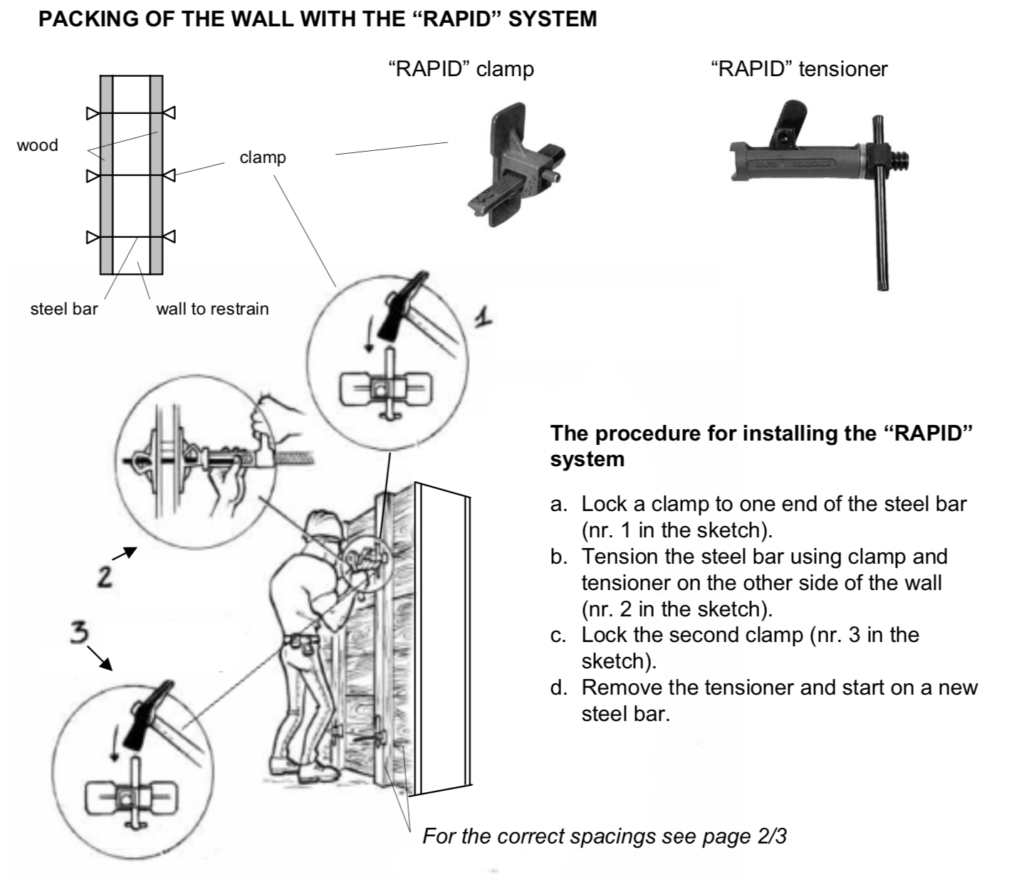 Prohibitions and dangers, where needed, are also hightlighted: the following example deals with the nterloped packing of walls section.
The STOP vademecum is based on the field experience of the Italian National Fire Corps and is supported by a number of bibliografic references:
Abate L., (2002). Roma città del fuoco. Editore: Comando dei Vigili del Fuoco di Roma, 315 pp.
Ballio G., Mazzolani F.M., (1987). Strutture in acciaio. Hoepli ed., 780 pp.
Bellizzi M., (2000). Le opere provvisionali nell'emergenza sismica. Agenzia di Protezione Civile – Servizio Sismico Nazionale – Roma.
Borri A., Grazini A., (2004). Criteri e metodologie per il dimensionamento degli interventi con FRP nel miglioramento sismico degli edifici in muratura. Atti del XI Congresso Nazionale "L'Ingegneria Sismica in Italia", Genova, 25‐29 gennaio 2004.
Dolce M., Liberatore D., Moroni C., Perillo G., Spera G., Cacosso A., (2006). Manuale per le opere provvisionali urgenti post‐sisma (OPUS). Convenzione tra il Dipartimento della Protezione Civile, ufficio Servizio Sismico Nazionale e l'Università degli Studi della Basilicata. http://postterremoto.altervista.org
Di Pasquale G., Dolce M., (1999). Raccomandazioni per le opere di messa in sicurezza. Comitato tecnico‐scientifico istituito a seguito dell'Ordinanza 2847/98 a seguito del terremoto del 9.9.1998 (Pollino).
Dumonteil P., (1992). Simple equations for effective length factors. Engineering Journal, AISC, vol. 9 (3), pp. 111‐115.
Faccioli, E. and C. Cauzzi (2006). Macroseismic intensities for seismic scenarios estimated from instrumentally based correlations, Proc. First European Conference on Earthquake Engineering and Seismology, paper number 569.
FEMA Urban Search & Rescue, U.S. Army Corps of Engineers, (2009). Shoring operations guide. www.disasterengineer.org
Furiozzi B., Messina C., Paolini L., (2007). Prontuario per il calcolo di elementi strutturali. Le Monnier scuola ed., 721 pp.
Gómez Capera A.A., Albarello D., Gasperini P., (2007).
Aggiornamento relazioni fra l'intensità macrosismica e PGA. Progetto DPC‐INGV S1, Deliverable D11, http://esse1.mi.ingv.it/d11.html
Nuove norme tecniche per le costruzioni. D.M. 14 gennaio 2008.
Lienhard IV J.H., Lienhard V J.H., (2008). A heat transfer textbook. Phlogiston Press, Cambridge Massachussets, 760 pp.
Margottini, C., Molin D., Serva L. (1992). Intensity versus ground motion: A new approach using Italian data, Engineering Geology, 33, 1, pp. 45‐58
Piazza M., Tomasi R., Modena R., (2005). Strutture in legno. Hoepli ed., 736 pp.