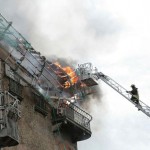 On August 8th, 2007, a fire due to renovation works has severely damaged the historical Bologna's building Palazzo Albergati.
In the early afternoon of a hot day, workers who were installing roof caulking have called firefighters after having tried to tackle the fire with a fire extinguisher, due to the sparkles  or the open flames generated during the works.
Firefighters have used ladders and an helicopter.
In the building, where several professional office were hosted, there were 18th century furniture and frescoes. Damages  have been recorded also to archive and computer of the offices.