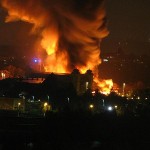 The Industrial Palace (Průmyslový palác) – central building of the Prague Exhibition Grounds in Prague  was partly destroyed by a fire on October 17th, 2008.
The fire began at the roof. Two hundred firefighters fought the fire and got it under control in less than three hours. Two firefighters suffered minor injuries. The left wing of the Art Nouveau building was destroyed, the roof and most of enclosure walls collapsed. The amount of damage can rise up to 1 billion Czech crowns (approx. 40 million euro). Although a student music festival was organized in close surroundings, none were injured.
The Industrial Palace was inaugurated in 1891. It was the biggest building on the exhibition grounds. Architect Bedřich Münzberger used the glassed-in steel structures for the first time in the Czech lands. The building was 238 meters long and its main tower was 51 meters tall. It was used mainly for trade fairs and exhibitions, but also for concerts and other culture events.
Press reports suggest the fire is connected to the October 9 murder of businessman Václav Kočka junior, whose father is engaged in the Incheba company and has been leasing the exhibition grounds since 2001. Václav Kočka senior is a friend of former Czech prime minister Jiří Paroubek. However, authorities mentioned an accident – explosion of pressure gas cylinder – was the probable cause. Incheba said they have video of the explosion recorded from the security cameras.