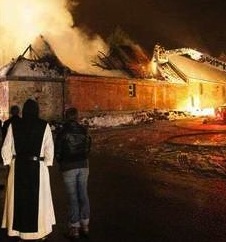 On december 29th. 2010, some seventy firefighters from the Fire station of Rochefort, Beauraing, Power and Dinant have been working for almost an hour onthe site of the abbey of Saint-Remy Rochefort, where a major fire broke in the evening, around at 6,30 p.m.. The Abbey is famous for the production of beer.
A problem of electric generators is the basis of the blaze which resulted in the burning of the building. A reserve containing furniture was first affected, then a cabin room containing high–voltage and electrical box but, though the blaze has destroyed much of the building's timber structure, no injuries were reported.
The area of the abbey hosting the tanks of the brewery have not been affected, as well as the library. Because of snowfall, electrical problems affecting the brewery, generators were placed in a shed to reduce incidents. The monks were taking their evening meal when the fire erupted. Ciney Road, which passes close to the abbey was closed to traffic so as not to hamper rescue work. About 35 people work daily inthe Abbey of Saint–Remy which is brewed Trappist Rochefort.
The Abbey was built in 1230, destroyed in 1797 and built again in 1887.