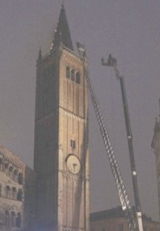 On October 22th 2009, 2.29 a.m., a lightning struck the metal statue of the Parma (Italy) Cathedral Belltower (built between the years 1284 and 1291). The thunder had destroyed the cross held by the "Golden Angel" on the top of the Belltower (65 m high) and has started a fire of the wooden structures of the roof.
Damages sum up to 250.000 euros. The fire has revealed that the metal covering put during renovation works in the nineteenth century had hidden the previous covering in two colors tiles. Such tiles will be used to put in place the new covering.
Two nearby buildings has been evacuated, but the church has not been closed.
Firefighters have been working with engine-ladders during the night to extinguish the fire, until late morning. Firefighting operations lasted some hours because of the need of limiting the use of water, in order to not damage structures and artifacts inside the cathedral.
<http://www.gazzettadiparma.it/mediagallery/video<http://www.gazzettadiparma.it/mediagallery/video/9992/I_primi_minuti_dell%26039%3Bemergenza_e_i_vigili_del_fuoco_al_lavoro%3A_il_video_di_monsignor_Chierici.html>http://www.gazzettadiparma.it/mediagallery/video