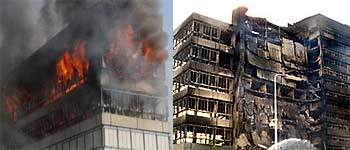 The combination of a coffee machine and a broken water pipe led to the destruction of the TU Delft faculty of Architecture, containing one of the world's finest architectural libraries and a collection of furniture models by Rietveld, Le Corbusier, Adolf Loos, etc.
In particular the fire on May 13, 2008 began at approximately 9:00am when a water leak caused a coffee vending machine, located at the 6th floor of the  southwest wing, to spark, smoke, then finally flame. The building did not have fire sprinklers, but firewalls divided it  into three compartments. Such walls  revealed to be not effective in confining the fire to the compartment of origin.  All building occupants were evacuated safely, but  the fire spread has severely impacted firefighting  operations. As a consequence, the fire has burnt uncontrolled for hours, causing the structural collapse of an important section of the building. In fact, the northwest wing collapsed at 4:40 pm (some  7.5 hours after the first flames were observed) .The damages revealed to be so severe  the building had to be demolished.
Luckily firefighters were able to save historic models and books from the library but the building itself was lost with its content, a loss for culture and heritage anyway.
An interesting thesis by Dr Adam Jess Kirk concerning the analysis of the  the building and fire together with an overview of available methods for calculating the ultimate strength of reinforced concrete members at elevated temperatures has been published by the University of Texas at Austin.  In the document a preliminary models of the fire have been also developed and applied to selected structural elements.