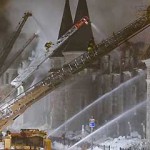 On April 5, 2008, the Quebec City Armouries, a Gothic Revival drill hall in Quebec City, Canada (built between 1885 and 1888 and designed by architect Eugène-Étienne Taché) was destroyed by a fire  and all but a rear wall and turrets from the front door were destroyed.
The most all of the archives stored at the Quebec City armoury were spared by a fire that gutted the historic building. A museum in the amoury which housed various artifacts from the regiment was also lost in the fire. Though, officials estimate 90 percent of the artifacts were saved due to efforts by members of the regiment and local firefighters.
The armoury wooden roof was one of the largest in Canada and it was undergoing renovations
Calls have been made by politicians to rebuild the armoury,to which the federal government has responded positively by allocating $2 million for reconstruction planning.